3D Laser Custom Crystal Awards & Trophies
3D laser engraved crystals make wonderful corporate gifts, recognition awards, promotional pieces and keepsakes. Our 3D laser etched crystals awards and trophies are produced using our digital 3D laser crystal engraving systems that engrave your 3D images inside optically perfect crystal, causing the image to appear to FLOAT within the crystal.
3D Laser Crystal Awards and Trophies are created with one or more of the 1000+ stock images from in our extensive library at no extra charge. Stock image laser engraved crystal awards include engraving and are designed to fit your company's needs./p>
3D laser crystal trophies and awards never fail to impress. Present these high-perceived value custom crystal award pieces and leave the recipient wondering how this could possibly be done. Choose your favorite shape and size within your budget and we will take care of the rest. Buy now from our stock designs or fill out a request and get your custom 3d laser engraving project started today.
Call 1-800-343-3166 or fill out the form below
Get Started
3D Laser Crystal Engraving:
How It Works and Why You Should Try It
Have you ever wanted a product that stands out from the others or what is ordinary? This is our company's philosophy, and we use this winning attitude when designing awards with a 3D laser engraving machine.
One of the many unique custom crystal awards we offer at FineAwards.com is our 3D laser engraved awards. These pieces are truly like no other because 3D laser engraved crystal awards feature a 3D holographic image floating inside of a piece of solid crystal. This floating image, or bubblegram, is an elegant, classy way to personalize a crystal award. Have you ever wondered how we create that floating image? Here, we've simplified the 3D laser crystal engraving process into three steps.
1. Creating the Template
One stand-alone attribute of 3D laser engraved awards is using any 2D image as the focal point of what's being engraved. But, to engrave a 3D image from a 2D image, we must create a template! To do this, we upload the image of your choice to the machine. Afterward, your image is converted to a 3D series of points that the laser engraving machine uses as a stencil for engraving, where the laser will engrave your image. Each 3D laser crystal engraving uses tens of thousands of points. A bubblegram as small as 5 cm x 5 cm x 5 cm could use as many as 60,000 points!
We can either take your logo and a photo and do a process called "extruding" to make it POP! Or we have access to a large library of 3D objects we can incorporate.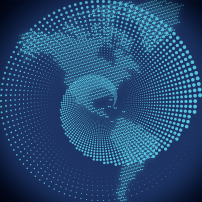 2. Align the Crystal
Before we begin the engraving process, we line up the award piece with the laser engraver. Many engravers have just one laser coming from one point, but some have two lasers coming from two sides.
These two-sided lasers are more difficult to align, but once aligned, we fix the crystal to the base of the machine to prevent it from moving around during engraving, as the vibrations from the machine and energy of the laser can cause the crystal to shift. Proper alignment, especially in a two-sided laser, is essential to ensure that the engraving looks its best.

3. Etching Your Image
Finally, your crystal is ready for engraving! A laser (or lasers) is aimed at each point individually and pulsed. Each pulse creates a tiny hole, or etch point, in the crystal. The energy at the end of the laser is what causes the distortion, not the length of the beam, allowing for carving inside the crystal without damage to the outside surface.
The final 3D laser crystal engraving is also called a laser-induced damage image because the laser effectively damages the crystal inside. To add more dimension to your 3D crystal photo, the size of the etch points can be changed. Points with larger diameters result in brighter points, and smaller diameters create dimmer points. Through this, the crystal hologram comes to life!
Contact Us To Create Your Custom Design
Benefits of 3D Crystal Engravings
So, the question arises, why should I consider 3D engraved awards for my next purchase?
There are two areas where using 3D engraving methods out-weight other methods like sandblasting. Specialist explains 3D laser crystal engraving machine to client.
1. Timeliness: If you need your awards designed and shipped quickly, this is the best method for doing so. Being that it takes less time and manpower to get awards engraved with a 3D laser engraver than sandblasting, multiple award pieces can be finished faster.
2. Uniqueness and Aesthetic: 3D engraved awards are distinctive from other traditional pieces because of the award's appearance once the engraving process has finished. A completed 3D engraved award piece has a striking, floating design that can be seen from all angles. Delicate white lines make-up your design; with clear strokes, the white lines bring out all of the features in your selected image, no matter if they're text or graphics.
We offer awards designed with a 3D laser crystal engraving in many sizes in a wide selection of crystal awards. If none of these fit your needs, or you want to make your award extra special, you can design your crystal award featuring a custom 3D laser engraving!