What to Keep in Mind When Ordering Custom Awards
Are you planning to order custom acrylic, crystal, or glass awards to recognize your team's accomplishments? Company awards can be incredibly impactful for the recipient, and each one shows your appreciation for the recipient's commitment, resilience, and diligence. As you're shopping around, keep these four essential questions in mind to ensure your expectations are met and your recipient is impressed.
Questions to Ask Yourself When Shopping for Company Awards
Your employees have gone above and beyond for you, and they deserve recognition. Many companies of all sizes choose premium glass, crystal, or acrylic awards to recognize significant achievements and major milestones. From trophies to plaques and other prestigious gifts fit for an executive desk, if you want to give awards that are truly symbolic of the achievement, keep these four questions in mind while doing your shopping.
Does the Award Fit the Occasion?
At its core, an award is meant to represent the occasion and achievement with a tangible reminder of your team member's accomplishments. Since you don't want to give bottle caps to the world's best minds or spend thousands of dollars on trophies for one-year work anniversaries, there's a balance to be found. That's why it's important to find an award that perfectly fits the scope of the achievement or the occasion. The best custom awards companies will make it easy to sort through their offerings, often categorizing their products by occasion, shape, and size.
What Materials Are Used?
Your recipient goes above and beyond for the company, so you'll want to give them an award that not only fits the achievement or occasion but is also high-quality. This is where materials come into play. Depending on your budget, you can purchase a wide variety of premium awards made from many different materials. For the finest achievements, you might consider giving them a premium custom crystal award sculpted to your preferred design or etched with the recipient's name, the achievement, and date. For more frequent achievements or team-wide awards, you could also consider awards made of glass or acrylic. Acrylic and glass awards are cost-effective options to recognize your team members.
How Can You Take the Design to the Next Level?
Some companies simply prefer to stick with the pre-designed awards. However, if you're planning on giving out these awards at the end of the year or you're commemorating some truly remarkable achievements, consider going the custom route. The best award companies will offer seemingly limitless customization options. For example, you could have custom crystal plaques made in the shape of your organization's logo. Or, you could work with a company that offers 3D custom laser engraving, which will depict a 3D image inside the trophy. The possibilities are endless, so if you want your awards to be truly unforgettable, consider how you could take the design to the next level.
What's the Award Company's Track Record?
Finally, consider the custom award company's track record. Browse their website for information about their history, their previous clients, and the factors that make them stand out from the crowd. For example, FineAwards is a custom corporate awards company that specializes in using the finest quality materials available with decades of design and production experience. If the award company you choose has worked with some of the biggest companies in the world with a plethora of positive reviews, we are probably the right company for you.
About FineAwards
When you need a custom award to match an employee's significant achievement or remarkable milestone, choose FineAwards. This company has been creating custom awards for decades, offering a wide selection of premium pieces your recipient won't soon forget. You can order everything from acrylic awards to glass awards, custom plaques, and other ways to recognize your team. FineAwards sources high-quality materials for their products, and the design and production teams treat every order like we are giving it to their own team. FineAwards makes it quick and easy to order corporate awards for your entire team, organizing their award options by size, color, shape, and occasion, so you can find the perfect award for your recipient. When you want to go above and beyond for someone who goes above and beyond for the company, choose FineAwards.
4 Reasons Companies Buy Custom Awards From FineAwards
For decades, FineAwards has been the go-to source for custom awards. Companies of all sizes, from multinational corporations to medium-sized businesses, choose FineAwards to commemorate our team's accomplishments. Organizations use FineAwards' trophies, plaques, and other awards to take our employee recognition programs to the next level. While there might be other options out there, FineAwards stands above the rest. Here are a few reasons why companies of all sizes trust FineAwards when ordering our custom employee awards.
There's No Limit to Your Imagination
FineAwards offers a variety of pre-designed awards to choose from for a variety of occasions. However, the company's work truly shines when designing one-of-a-kind custom awards for our clients. If you visit FineAwards' custom awards page, you can see all kinds of extraordinary designs we've created in the past. The types of awards we can create are virtually limitless. With FineAwards, you can have a trophy created in the shape of your logo or even the shape of your corporate headquarters. The possibilities are endless, and companies choose FineAwards for the opportunity to let our imaginations run wild.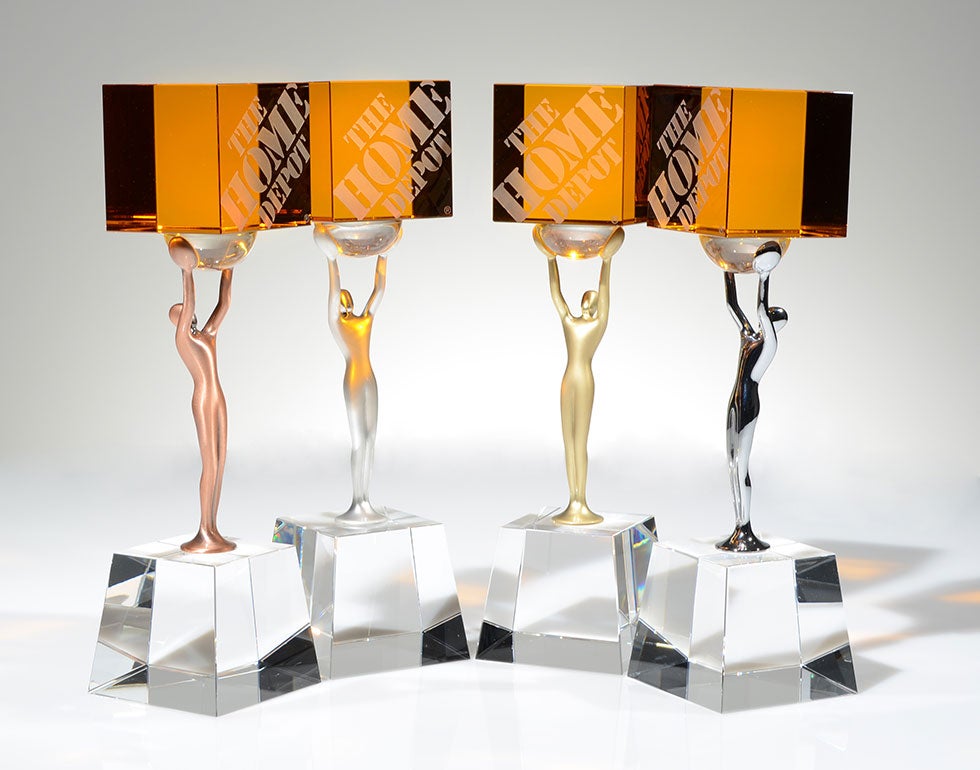 You Have Plenty of Choices
In addition to creating next-level designs, FineAwards offers a wide selection of awards to best fit your budget, vision, needs, and timeline. Some occasions might call for a fun trophy shaped like the company's logo; other events might call for prestigious custom plaques to exemplify a career full of achievements. FineAwards offers it all. On our site, you can shop for premium awards available in a variety of shapes, sizes, and colors, so you can create the perfect custom award to fit any occasion. If you like having tons of choices and design options, you will enjoy choosing FineAwards for your custom award needs.
It's Hard to Beat Our Quality
If there's one thing FineAwards emphasizes, it's quality. For decades, the FineAwards team has created unique glass, acrylic, and crystal awards with a premium touch you can literally see and feel. Our awards feel like we are always made for prestigious events, meaning your recipient won't soon forget the award or the occasion. FineAwards' pieces are intended to be displayed with pride on a bookshelf, mantel, or desk. When companies want to go above and beyond for our recipients and expect nothing but the best, we create unforgettable awards with FineAwards.
We're Incredibly Easy to Work With
Service is a priority for FineAwards. We are professionals to the highest degree, working closely with our clients to understand our vision, budget, and timeline. Whether you want to be closely involved with your project at every step of the way or you prefer to let FineAwards work our magic with minimal oversight from you, we are happy to accommodate.