Corporate Awards Ideas
Employees thrive on recognition. When companies show their employees appreciation for exceptional work, employee satisfaction and retention increase. If an employee does decide to leave, they will likely do so with positive feelings about the company they worked for.
An employee retention strategy is important for attracting and keeping top talent. While a certain level of attrition is expected, recognizing employee performance will bode well for companies. There's a reason Fortune publishes lists like "100 Best Companies to Work For."
One of the best ways to show recognition is through corporate awards. Awards are tangible and signify more substantial than a "thanks." They're also given in front of people in most cases, making the recognition public.
Over the years though, many employee awards have become predictable and boring. They lose their effect when presented as simply one of the checkboxes companies have to check off.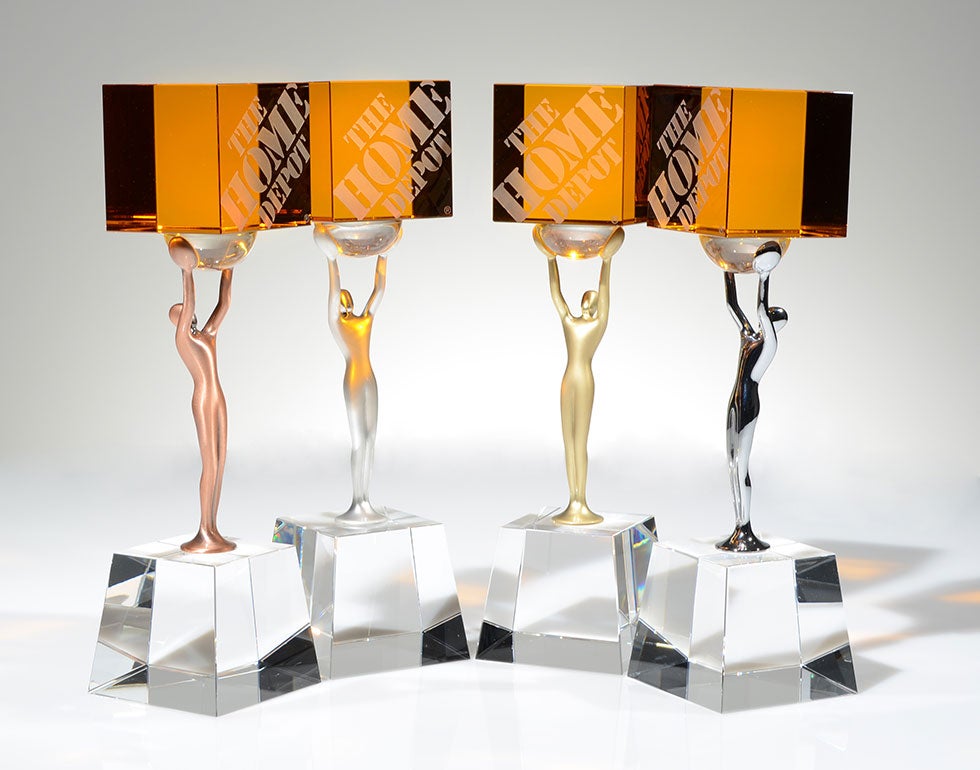 How to Do Corporate Awards?
More Than a Gold Star
While a gold star might've been good enough in grade school, recognition should be more substantial in the corporate world. Custom crystal awards or acrylic awards shows fellow employees and others your business is serious about success.
Make Them Fun
This depends largely on each company's corporate culture, but the same old "length of service" and "exceptional performance" awards can be tiring. Just as there are both Academy Awards for best in the movie industry and Golden Raspberry Awards for the worst, varying things up can be fun.
SurePayroll, a payroll services company based in Illinois, was showcased in the media heavily in 2011 for their approach to unique corporate awards. The company gives out the year's most impressive screwup award. "Screwup" in this case is not to be insulting. It's to celebrate employees with big ideas who are not afraid of taking risks and failing.
Unusual awards breathe life into otherwise stale award-giving culture.
Raise the Stakes
While awards are recognition for past work, they can also be used to promote future performance. Employees who receive corporate awards should be propelled into larger roles. For someone receiving an innovator award, include a budget to develop one of their ideas.
Coming up with meaningful corporate award ideas is essential for employee retention. Companies should thoughtfully approach employee recognition and the awards should reflect that. This can go a long way towards strengthening the relationship employees have with their companies. Awards are also a great reminder of company values and goals.
FineAwards.com helps companies recognize their employees by crafting beautiful custom and corporate awards for Fortune 500 companies and other organizations around the world, providing quality awards in a timely manner. Contact us today to learn more.
4 Reasons Companies Invest in Corporate Awards
Company award shows are becoming more and more common, with companies of all sizes and industries giving their employees awards to celebrate their accomplishments. While traditional incentives such as benefits, bonuses, and other gifts have been staples for decades, custom awards could provide numerous benefits for your team and the company culture as a whole. Here are a few reasons some of the biggest companies invest in corporate awards.
Show Recognition for a Significant Achievement
There are a variety of reasons to give premium awards to your employees. Some companies give awards to honor years of service, especially big milestones like 10 years or more at the company. You can also give a premium award when someone exceeds what's expected of them, such as surpassing a sales goal or solving a significant problem. Custom awards go further than a pat on the back and show that you truly appreciate your team's diligent efforts.
Help Improve Overall Morale
Company morale and culture are essential in the modern marketplace. Happy employees are more likely to stay with a company and will continue overachieving, with ripple effects from the company's bottom line to the C-suite. Leaders everywhere are on an endless pursuit to help encourage engagement, and custom awards could be a valuable tool. When an employee sees another team member win an award at the end of the quarter and receive public recognition for their work, it shows that the company genuinely notices effort and achievements. If you want your team to feel more closely aligned with the organization's overall mission, consider investing in premium corporate awards.
Inspire the Entire Team to Achieve Greatness
Inspiring greatness from the team can be a challenge for some leaders. Often, it comes down to showing your team there's something in it for them or that there is a reward at the end of the difficult journey. Premium acrylic awards, fit for a prestigious occasion, could be the incentive your team needs to inspire greatness. Along with other creative incentives such as bonuses or special perks, try incorporating premium awards into your employee recognition program.
Foster a Culture of Growth at Your Company
Company culture matters to nearly all current and future employees. Many organizations include employee awards in their overall culture initiatives because they show what's possible when an employee stays with your company for the long term. Every leader wants to see professional development from their team, and corporate awards are symbolic of growth. If you're seeking new ways to inspire greatness, encourage engagement, and foster a culture of growth at your company, custom corporate awards might be the best choice for you.
About FineAwards
When you need a custom award to match an employee's significant achievement or remarkable milestone, choose FineAwards. Our company has been creating custom awards for decades, offering a wide selection of premium pieces your recipient won't soon forget. You can order everything from acrylic awards to glass awards, color
crystal awards
, and other ways to recognize your team. FineAwards sources high-quality materials for their products, and the design and production teams treat every order like they are giving it to their own team. We make it quick and easy to order corporate awards for your entire team, organizing their award options by size, color, shape, and occasion, so you can find the perfect award for your recipient. When you want to go above and beyond for someone who goes above and beyond for the company, choose FineAwards.